Vintage & Classic Repair
Tiger excels in the industry, servicing all major make and model motorcycles and scooters, regardless of model year. Our technicians have the necessary background and experience to tackle projects large and small, from the ultra rare to the vintage showpieces, and even dad's old Harley.
Tiger specializes in vintage Honda, Kawasaki, Triumph, BSA, and Norton platforms. We perform all work in-house including regular maintence, wear items, carb tuning and synchronizing, mechanical diagnosis and repair.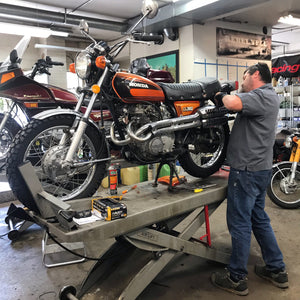 Modern Repair - Carbs and EFI
Taking your late model bike or scooter to the dealership for repair can be costly. And some dealers are not equiped for models that are no longer on the showrom floor. Let Tiger handle all your modern moto needs and keep your new or late model bike in top shape.
Our service department is equipped to handle most current to late-model bikes and scooters including drivetrain maintenance, valve train maintenance, EFI system diagnosis and repair, electrical system repair, suspension maintenance, tires, and braking systems. Tiger will keep your new bike purring.
Location
Our store
7231 Manchester Rd
Maplewood, Mo 63143
314-645-7425
Tue - Fri, 10am - 6pm
Saturday, 10am - 4pm
Sunday - Mon CLOSED
Special Services
Restoration Services
Motorcycles are as personal and important to us as to their owners. Relive the experiance all over again by bringing the good back to their best.
Inquire
Custom Build Services
Ready to ride your dream bike? Let us build it for you. Flying Tiger has designed and built custom bikes for clients across the world from bourbon distillers to rock stars. This boutique service is at-will. Please note that not all projects are accepted.
Inquire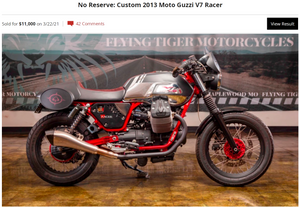 Premium Auction Services
Think your classic or custom bike could fetch a deal? Let Tiger list it for you on our Bring a Trailer account. We have achieved multiple successful auction sales for clients through detailed photogrpahy and marketing.
Inquire
More than just a repair shop...
Our passion for the two wheel life has led us down some interesting roads. It has inspired us to think outside of the box and create a unique item that maybe you have never considered: the moto candle!
Flying Tigers' original and World Famous 2 Stroke Smoke Candle became the first of its kind, using real 2-stroke oil infused with a combination of fragrances to emote the nostalgic experience of riding a dirt bike while remaining non-toxic.
The very first iteration of our 2 Stroke Smoke candle was released on Road and Track circa 2014. More recently we have been featured on Sildorome, Cool Material, Motor Biscuit, and Drive Tribe. The 2 Stroke Smoke Candle has since evolved to a collection of moto-inspired goods and gifts carried around the world by Le Comptoir Americain and various independent retailers.
Our passion is our commitment.